In search of solar panels for your new tiny home? We hear you. Tiny homes aren't for everyone however, these minimalist designs have gained more popularity in recent times. Tiny homeowners understand how challenging it can be to attempt to translate your style and personality into tiny reality. To help you in the right direction we'll be telling you about solar panels for tiny houses.
More than an aesthetic, tiny house living is a philosophy and just because you live in a tiny home, it doesn't mean you can't have modern features such as solar panels. Making a living in tiny homes requires lots of creativity; for obvious reason, solar panels may represent a bit of a challenge; nevertheless, with a little planning, creativity, and hard work, it is all possible.
Tiny homes are all about optimization, simply put, tiny homes are all about creating a simple, more efficient living space which is why solar panels and tiny homes go hand in hand. If you are in the search for the best solar panels for your tiny home, continue reading and get inspired by the following options.
Solar Panels for Tiny House FAQ's
Why you should consider solar panels for your tiny house?
Tiny houses are a great candidate for solar power because the smaller space makes for low power needs. While the traditional home in America uses around 30 KWs per day, my tiny house uses around 3 KWs per day.
How much power does a tiny house use?
A tiny house will use around 4 KWs per day. Typically, around 80% of that power will be used for heating and cooling, assuming you cook and heat water with propane or natural gas.
Can you power a tiny house with solar panels?
Even tiny houses with low electricity needs can benefit from solar power. If your tiny home uses only a little bit of electricity and you only need a few solar panels to meet your needs, it's often most cost-effective to do a DIY solar panel installation.
How much are solar panels for a small house?
After solar tax credits, the cost for a solar panel system on an average-size house in the U.S. ranges from $11,144 to $14,696, according to EnergySage. If you need a few panels for a small DIY project, expect to pay around $200 to $250 per panel (around $1 per watt).
How many solar panels do you need to power a tiny house?
15 solar panels will power a typical tiny house. This assumes an average-sized solar panel of around 300 watts, which would generate around 4,500 watts of power from the sun. This would cover all your power needs including some heating and cooling, but require you to have a gas cook range and a propane heated hot water heater. If you live in a particularly cold climate, you'll most likely need to supplement your heating with a propane heater too.
How many solar panels can you fit on a tiny house roof?
Generally speaking, you can only fit around 2 solar panels on a tiny house roof. This presents a real challenge because today you can really only expect to make around 20 watts per square foot of solar panel in ideal circumstances. That means you're only going to be able to fit around 600 watts of solar production on a tiny house roof, which isn't a whole lot.
What you should know about mounting solar panels on a tiny house roof:
Tiny house roofs only have around 200 square feet of space and since most roofs are pitched, you can really only mount panels on one side. This means you only have around 100 square feet of space for panels.
What most tiny homeowners do is mount panels on stands on the ground. After considering all the options: roof-mounted, pole-mounted, solar trackers, and fixed ground mount.
The benefits of a ground-mounted array are huge: being able to easily clean your panels, clear off the snow that covers the panels after a snowfall, keep the panel's cooler (increases their efficiency), and be able to shade your house while placing the panels in an open field.
The biggest benefit of ground mounting solar panels is that you could have a way bigger solar panel array. This means instead of 600 watts on the roof of your tiny house, you could put 4,000 watts on the ground in the field right next to your tiny house.
There are many companies that sell complete solar kits (such as those from Grape Solar or Reongy). Many sellers offer batteries as part of a solar kit if you're looking to install an off-grid system. As with any type of electrical work, it's a good idea to work on the project with an experienced electrician if possible.
Alternatively, if your tiny home uses enough electricity to require more than 3 kilowatts (kW) of solar power, you should consider working with a solar installer that can assist with the work.
What are the benefits of solar panels for tiny houses?
The benefits you'll reap from installing solar panels on a tiny house are similar to the benefits of installing on any other larger building: you'll save money on electricity bills, help protect the environment, and take control of your own electricity generation. Solar panel systems will also help increase the value of your tiny house should you decide to sell it in the future.
Additionally, many tiny houses are mobile, moving from various plots of land over time. If you have or are planning to build a tiny house on wheels, solar power is the way to go.
What do you need to get your tiny house set up on solar?
To get your tiny house set up on solar you'll need the following parts: your panels, batteries, a charge controller, and an inverter. Simply put, your solar panels take the energy from the sun and convert it to DC power, which then flows to the charge controller which regulates the flow of power to the batteries or the inverter, the batteries stores power for later and the inverter converts the DC power to AC power, which your house uses.
What to consider before choosing the right solar panel system for your tiny house?
What are my energy needs?
This is the most important question to ask yourself before going solar. The size of your solar system depends on the amount of electricity you use, or plan to use every month.
Where will your panels go?
On the ground: By far the most common option for tiny homeowners is an array of solar panels mounted on the ground. This is called, unsurprisingly, a ground-mounted system.
On the roof: When most people think of solar, they picture the panels on a roof. Roof mounting is classic and looks cute, but for tiny homeowners, it only makes sense for a small number of folks.
On the road: If you're going to be completely mobile, designing your tiny home to go anywhere and everywhere with you, you'll need a solar solution that you can move securely.
What are your goals?
Independence: If you're going tiny, you're interested in downsizing your life, the amount of stuff you own, your footprint on our green Earth, as well as your cost of living.
Saving Money: If your tiny home will be in an urban or residential area, perhaps on the property of a larger home, you might want to consider trying your solar system into the grid and selling them the electricity you are creating.
Solar Panels for Tiny House
This panel is suited for applications that require a smaller footprint, making it a favorite for those with RVs, campers, and more.
High solar cell efficiency. Corrosion-resistant aluminum frame for outdoor use, allowing the panels to last for decades as well as withstand high winds and snow loads.
It can prevent the battery from overcharging, over-voltage, discharge, and short circuit reversed polarity protection.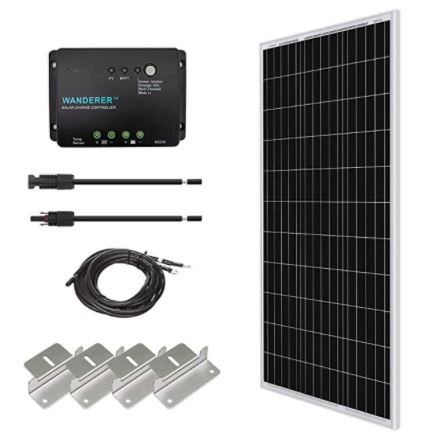 Features:
Multiple Protection
Easy Installation
Wide Application
Give your get-away cabin some of the comforts of home with an expandable off-grid solar system that includes 2 Solarland SLP180S-12 180 Silver Mono 12 Volt Panels.
Run a small stereo, laptop computer, cell phone charger, lights, or TV. This size system needs conscious conservation of energy.
Clean sinewave power from the Morningstar SureSine inverter is the heart of this off-grid system. This inverter converts the DC electricity produced by your solar panels into a clean form of AC electricity that is compatible with sensitive electronics like TVs and computers.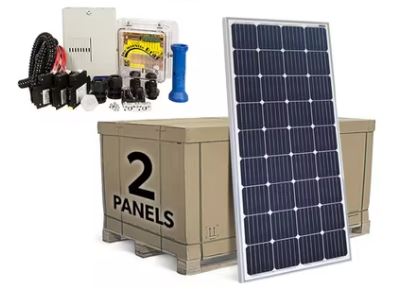 Features:
AC Power for your Cabin
True Sinewave
120 Volt AC Power
Enjoy all the comforts of home at your remote cabin get-away with an expandable off-grid solar power system that includes four powerful Heliene 320 watt solar panels.
This system's small size requires careful management of energy usage, yet allows you the conveniences of a utility-fed home.
The Magnum Energy sinewave inverter converts DC (Direct Current) electricity produced by your solar panels into a clean form of AC (Alternating Current) electricity.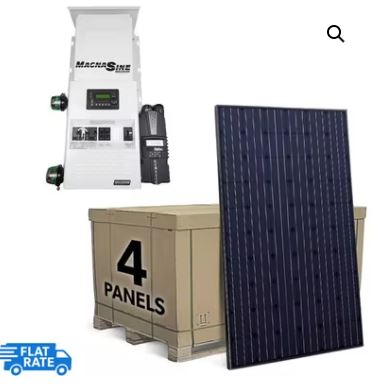 Features:
120 Volt AC Power
Easy-to-Install
True Sinewave Protects Your Electronics
The Schneider Electric sinewave inverter converts DC (Direct Current) electricity produced by your solar panels into a clean form of AC (Alternating Current) electricity.
This prevents background fuzz on your stereo or distorted lines on your TV and computer that you would get with modified sinewave inverters.
Your power center is completely pre-wired and tested with all necessary components. This saves you time and money and reduces the risk of smoking your inverter by installing it wrong.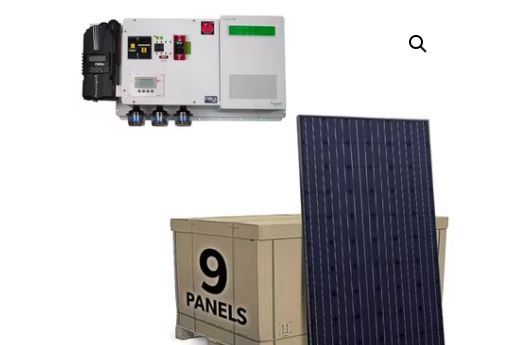 Features:
AC Power for Off-Grid Living
Easy-to-Install
Featuring 15 Heliene 320 Black Mono PERC Panels and a Magnum Energy power center, this expandable system includes the essential components to get started living off the grid.
It allows you to enjoy all the comforts of home with normal AC appliances no matter where your property is located.
Clean sinewave power from the Magnum Energy inverter is the heart of this off-grid system. This inverter converts the DC or Direct Current, electricity produced by your solar panels.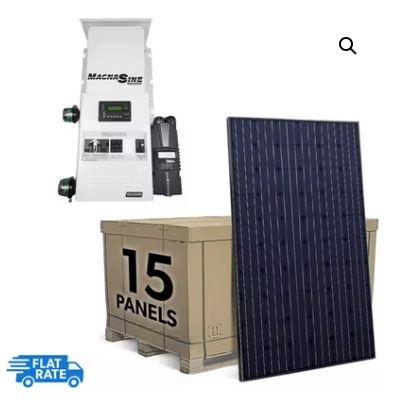 Features:
True Sinewave
Easy-to-Install
120/240 Volt AC Power