In search of bed ideas for your new tiny home? We hear you. Tiny homes aren't for everyone however, these minimalist designs have gained more popularity in recent times. Tiny homeowners understand how challenging it can be to attempt to translate your style and personality into tiny furniture reality. To help you in the right direction we'll be telling you about tiny home bed ideas.
More than an aesthetic, tiny house living is a philosophy and just because you live in a tiny home, it doesn't mean you can't have a great-looking bed arrangement. Making a living in tiny homes requires lots of creativity; beds in tiny homes, for obvious reasons, may represent a bit of a challenge; nevertheless, with a little planning, creativity, and hard work, you should be able to enjoy your tiny bed setting.
Tiny homes are all about optimization, simply put, tiny homes are all about creating a simple, more efficient living space. You can clearly see this when it comes to beds for tiny homes. If you are in search of a bed for your tiny home, continue reading and get inspired by the following tiny home bed ideas.
Tiny Home Bed Ideas FAQs
What is a common sleeping arrangement for a tiny home?
Hammocks are a common sleeping arrangement in many South American countries, where space constrictions and heat are both considerations. They can easily be taken down when not in use, and they are also a great way to take advantage of outdoor living space.
What is the best type of bed for tiny homes?
Since William Lawrence Murphy came up with the idea for the fold-out wall bed around 1900, his eponymously-named invention has become synonymous with space-saving. Murphy bed technology has improved vastly since its invention. They are stylish and take the concept of multifunctional rooms to new heights.
This is why so many people living the tiny house lifestyle opt for installing Murphy beds. Like the homes themselves, the wall beds exemplify innovative design.
What to consider when thinking of your bed design for your tiny house?
Is my tiny house already built? If your tiny house is already built, then you have much less creativity and flexibility available for your bed needs, unless you are willing to re-build a piece of furniture.
Do I want to rest in a loft? While most tiny houses showcase a nice raised sleeping loft, there are some people who would prefer to snooze on the main floor of the tiny house. Is a loft something you are interested in? Check out these tiny home loft ideas!
How much set-up am I okay with for my bed? There are tons of creative sleeping solutions out there that follow the tiny house lifestyle of folding, bending, disassembling, and disappearing into the walls. But creative solutions also mean setting up your bed and moving things around every night before you nap.
Do I sleep alone or with a partner? Is it just you, or will there be a partner beside you every night? Sleeping alone will allow you to be more flexible with whatever bed solution you choose.
What are the best bed solutions/Tiny Home Bed Ideas?
Bed-Desk-Couch Combos
If you are really looking to push the envelope for creativity and maximize your furniture space and ingenuity, then you can't beat the convertible bed-desk-couch combo. This set-up would work great in a tiny house for a single person, or if you need sleeping space for a second or third person apart from your main sleeping loft.
Zoom-Room Bed / Roll-Out Bed
One popular bed style gaining attention lately is the Zoom-Room style bed, also known as the roll-out bed. This bed basically a retractable murphy bed, instead of having it folded up into your wall or ceiling, the zoom-room / roll-out bed folds up into itself horizontally, meaning you can push it back into the wall, or whatever furniture it was built into.
Hammock Loft Bed
Looking for more living space without increasing the main floor area of your tiny house? Why not take the loft idea and expand on it? While it might not be feasible to build an entire second-floor loft in your tiny house, there's nothing stopping you from suspending a hammock that extends from one side of your home to the other.
Bunk Beds
Bunk beds are a great bed solution for kids for regular houses, so it's no surprise that many tiny house families are utilizing bunk beds to their fullest. What makes bunk beds work so well in tiny houses is that they naturally take up so little space, while also using vertical height to their advantage.
DIY Tiny Home Bed Ideas
The DIY lift elevator bed solution gives you the benefit of raising your bed above the rest of the house; thus keeping it out of the way when you're not asleep, and lowering it down when you want to use it, allowing you to avoid the pesky need to climb up into a loft.
Tiny Home Bed Ideas
The Lori Wall Bed is the simplest, most practical, and most affordable Murphy bed available anywhere. By eliminating the complicated, expensive lifting mechanism found in most Murphy beds, we'll save you hundreds of dollars. All you have to do is lift and lower the platform.
Made from 100% real cabinet-grade Baltic Birch plywood (no laminate, MDF, or particleboard), this high-quality piece of furniture will help you transform your guest room into a stylish and functional living space.
The Lori Wall Bed is available in multiple sizes, orientations, and colors, and includes detailed assembly instructions.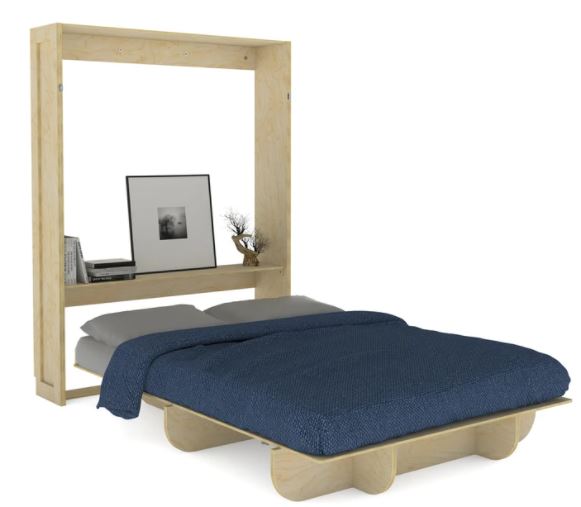 Features:
Wood
Fasteners
Easy to assemble
Whether you're a busy professional in need of a perfect small space solution for your condo or home or cool and functional furniture for your dorm or first apartment, DHP has you covered.
The DHP studio loft bed allows you to maximize your living space by taking advantage of vertical space.
The DHP studio loft bed is cleverly designed to accommodate a twin mattress and a built-in desk with four shelves to store your books, laptop, picture frames, etc. These bunk beds are created with small spaces in mind, without ever sacrificing comfort or design.
Features:
Metal Finish
Silver and black metal finish
Safety rails
The Camelia sofa daybed is ideal for rooms with space constraints, featuring a roll-out trundle bed. Constructed from solid rubberwood and MDF wood, the Camelia is foam-padded and upholstered in an elegant neutral fabric for the highest level of comfort.
The daybed is fitted with a pull-out twin-size trundle, providing convenient accommodation for guests.
Inspired by both modern and classic elements, the daybed showcases a streamlined silhouette and button-tufting on the back panel. This dynamic piece of furniture will allow you to maximize your space without sacrificing style.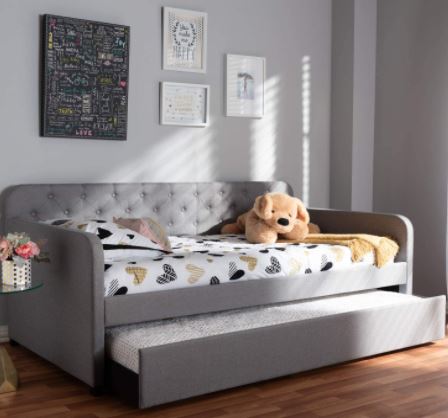 Features:
Polyester
Rectangular
Wood
The double-layered quilted polyester with inner polyester padding and a polyethylene stuffing head pillow offer you superior comfort. 55 inches hardwood spreader bar with powder coated in an oil-rubbed finish, making it more stylish and stable.
Handcrafted cotton ropes add character and authenticity, and the thickness of the end cords contribute greatly to the balance and strength of the hammock.
This hammock is Hpbvcot perfect for patio, garden, backyard, poolside, or balcony. It brings you an amazing experience no matter you are reading a book or taking a nap on our hammock.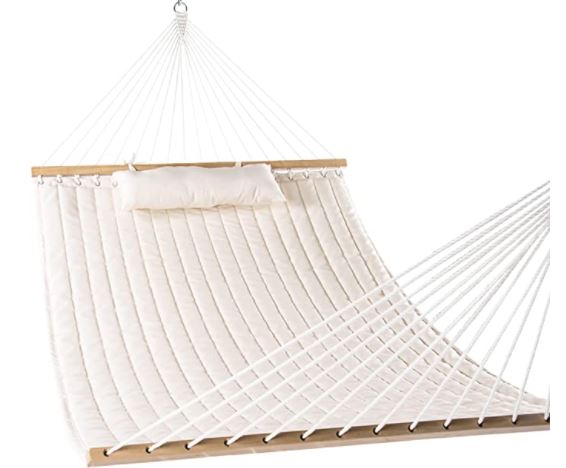 Features:
Quilted Fabric
Polyester with polyethylene stuffing
Hardwood, Steel
Complete your room with DHP's Full Over Full Metal Bunk Bed. With square posts and a simple design, this bunk bed will complement any room décor.
The bunk bed includes metal slats for support and durability and can be used without a box spring or bunky board.
It also includes full-length guardrails for the upper bunk and a sturdy integrated ladder for safety. Functional and space-saving, this Full Over Full Metal Bunk Bed is perfect for sharing a room or for sleepovers.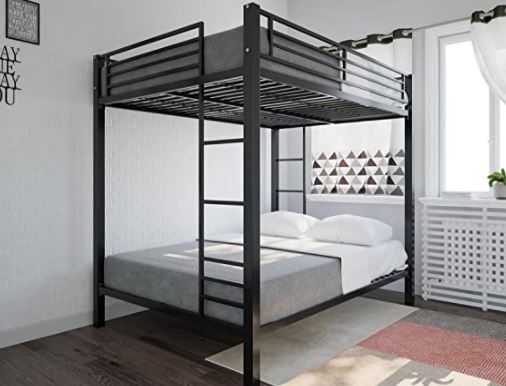 Features: