Are you a tiny homeowner who is in search of the right sofa for your tiny home? We hear you. Tiny homes aren't for everyone however, these minimalist designs have gained more popularity in recent times. Tiny homeowners know exactly how hard it can be to find tiny home items or furniture. The reason why today we'll be telling you about tiny home sofa types.
Every home no matter the size needs a sofa, but keeping in mind that space is a premium when it comes to tiny house living, giving up all that space just for seating can feel wasteful. Living in a tiny home will make you realize that tiny living requires lots of creativity; which is why a lot of tiny homes are fitted with furniture that offers storage compartments.
With different options available, getting the right sofa may seem a bit overwhelming, it can be a bit difficult knowing exactly what would work best for you and your tiny home. But we've got you covered, below you'll find different tiny home sofa types that will keep you as comfortable as one can be.
Tiny Home Sofa Types FAQs
What are mini couches called?
A settee is a small sofa with two arms and a back. It usually seats two and is more upright and slender than a typical sofa. Unlike most sofas, a settee can easily look at home in an entryway, in a bedroom, or even pulled up to the dining table, thanks to its elegant proportions and upright posture.
Is a tiny home sofa suitable for a small living room?
An L-shaped couch with a built-in footstool is a great example, which also works well slotted into long living rooms to visually break up a long space. We often think of sectionals as big couches, but there are compact versions available.
Do they make small sectional couches?
With today's variety of options, you can find sectionals to fit in rooms of all sizes, from tiny apartment living rooms to a full-sized den and everything in between. A small sectional couch is generally easy to move and reconfigure, making it an ideal option for renters who might move around a lot.
What size is the smallest couch?
An apartment size sectional sofa could be as small as 80 inches wide by 35 inches deep. Loveseats and chaise lounges are naturally good options for smaller spaces, with standard styles measuring somewhere around 60 inches wide by 35 inches deep.
What are the most popular sectional sofas?
Three-piece sectional: An example of a super-efficient unit is a sectional consisting of a sofa love seat, a chair, and a cushioned bench. The chair and couch can be tucked into a corner and the bench pushed up to them to create a cozy cuddle corner.
Storage sectional: If your couch choice is a tiny sectional, then you are already dealing with space limitations. So if your couch opens up to reveal storage space that can be used for bedding.
Hidden space saver: Two sections of the couch are visible during regular use. The third section is really a pull-down bed that uses one couch section as a support and a small wall shelf as the feet for the other end.
U-Shaped sectional: This type of sectional creates an intimate U, the perfect shape for meeting close friends. It creates a cozy conversation corner, making use of a space that would otherwise be unusable.
Tiny Home Sofa Types
A popular sofa bed is made with a fully removable cover that can be dry cleaned. After removing the cover you will find a quality reflex foam mattress covered in a luxury damask.
The mechanism is made in strong steel with beech sprung slats for extra comfort and support converts in seconds from a sofa to a bed just lift from the front and roll out.
Having the added storage and fully upholstered plinth just adds to the fantastic looks of our most popular loose-covered sofa bed.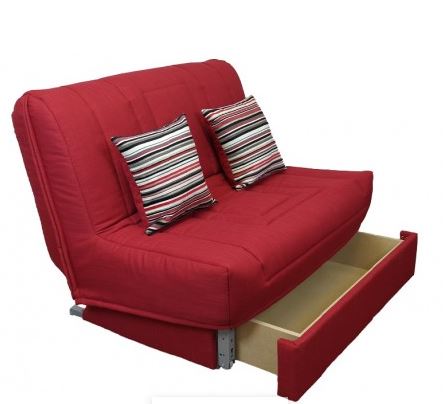 Features:
Storage drawer
Steel mechanism
Comfort and support
The cushions you sit on are nice and firm. You'll never have to worry about sinking in. The more you sit in it the better. Comes with thickened legs that will support you firmly and ensure superior steadiness.
This small space reversible sectional sofa will make the most of your apartment or studio space; upstairs loft and more.
Sectional sofa with an extra-wide chaise lounge for maximum comfort, when friends come by, you can place the ottoman on either side of the sofa at random.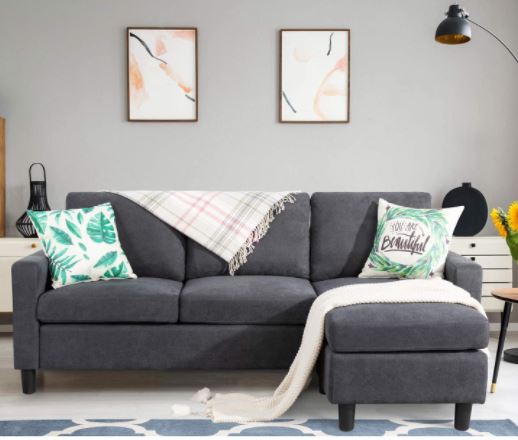 Features:
HONBAY sectional sofa is based on a solid wood frame and filled with high-density foam, upholstered with Linen fabric and modern style perfectly matches any room and adds elegance.
The double footrest comes with a storage compartment, adding convenience to this chic design, it is a perfect place to place blankets and magazines and will keep the room cleaner.
You can put away a chaise (square ottoman) on the left or right of the sectional sofa to fit against the wall in your room. It allows you to use those corner areas.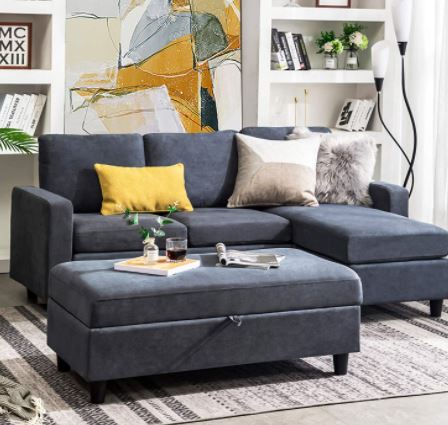 Features:
Solid wood frame
Thickened cushion
Modern Design
This futon sofa is perfect for small spaces; you will enjoy the functionality of a full-sized sofa without unnecessary bulk in an apartment or dorm or make it a comfortable addition to your home's bonus room.
Durably crafted with tufted linen and 4 chrome metal legs, this convertible futon sofa fuses comfort and style that will last in your living space for years to come.
This stylish futon sofa has a 500-pound weight limit that lets you lounge in good company while utilizing a fold-down armrest with convenient cupholders in the middle.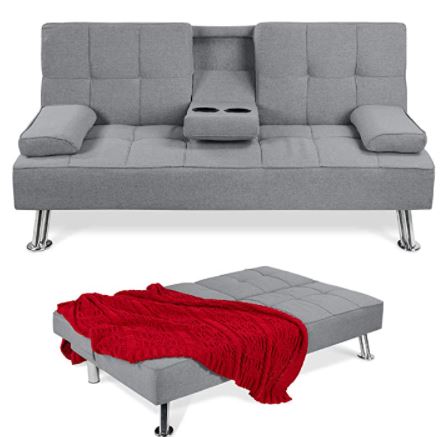 Features:
Convertible sofa bed
Room for two
Adjustable
POVISON L-shape reversible modular sofa& chaise can be easily converted into a sofa, a lounger chair, as well as a full-sized bed.
The interchangeable chaise can be arranged on the left or right side, allowing you to easily customize depending on the configuration of your room.
Built on a solid eucalypt wood frame, fill 100% new sponge ensuring best durability in daily use and the overall average load-bearing capacity of 770 lbs.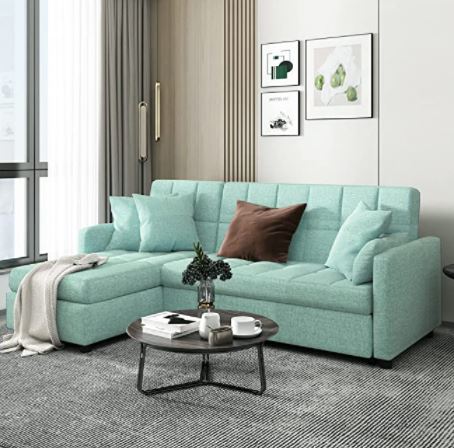 Features:
Ergonomic Sitting Height
Thickening Cushion
Oversized Hidden Storage