Do you need stairs ideas for your new tiny home? We hear you. Tiny homes aren't for everyone however, these minimalist designs have gained more popularity in recent times. Tiny homeowners understand how challenging it can be to attempt to translate your style and personality into tiny reality. To help you in the right direction we'll be telling you about tiny home stairs ideas.
Making a living in tiny homes requires lots of creativity; stairs in tiny homes, for obvious reasons, may represent a bit of a nuisance. Whether you're downsizing to a smaller place or simply building your tiny home, with a little planning, creativity, and hard work, you should be able to work whiting your new small space.
Nobody knows exactly how to create or design and build a dreamy home kitchen unless you are an architect of course. That being said, keep in mind there's no right or wrong when it comes to kitchen ideas, as long as it works for you, that's all that matters. Continue reading and check out fantastic tiny home stairs ideas.
Tiny Home Stairs Ideas FAQ's
What size are tiny house stairs?
Some tiny house stairs take up 20 to 25 square feet (if they're keen on following the code), while others tend to be more space-conscious and try to limit the space it takes up when building one. In building a comfortable set of stairs, what matters is getting the proportion right for the treads and the risers.
Can I use a ladder instead of stairs?
Ladders can be used in any tiny home. Stairs are not possible is all tiny homes, especially those without dormers. You can build your ladder to function on a slight slope instead of straight up and down. This will make it easier to climb and more secure.
What is a retractable staircase tiny house?
The first standout feature is the retractable aluminum staircase that can go in and out of a bank of storage drawers. It leads to the sleeping loft, eliminating the need for a ladder.
What is a floating staircase?
Floating stairs are a type of straight staircase that is self-supported. Because of the self-supported design, a floating staircase requires no extra support between the underside of the staircase and the floor below or a wall.
Why choose a staircase instead of a ladder?
For tiny homeowners with mobility issues, a ladder won't be the best way to get around. A ladder doesn't provide enough support to allow comfortable, long-term living in a tiny house.
You want extra storage space: A tiny house staircase doesn't have to hog all the space in your home. Contrary to popular myth, adding stairs to your tiny house plans can provide you with the additional storage space that you need. You can create an extra storage room under the stairs.
You have pets or children: Ladders are potentially dangerous to pets or kids. A staircase, on the other hand, provides easy access to the loft for pets and kids in a tiny house and reduces the risk of injuries.
How wide should stairs be in a tiny house?
The width of stairways in a tiny house shall be at least 24 inches. R311. 7.2 Headroom. The headroom in stairways shall be not less than 6 feet 8 inches (2032 mm) measured vertically from the sloped line adjoining the tread nosing or from the floor surface of the landing or platform on that portion stairway.
What to know before building your tiny house stairs?
Width: According to the International Residential Code, the minimum tread (or where you're stepping) should be close to 20 inches minus 4/3 of the riser height. Other length recommendations for building tiny house stairs include:
Headroom: The headroom is the space above your head as you enter the loft.
Riser Height: The height of each step. Riser height should be no less than 7 inches and no more than 12 inches in height. Getting the proportions of the risers and the tread is crucial in creating a functional staircase.
Handrails: If you want your tiny house stairs to be completely up to code, you have to install handrails for safety purposes. The tiny house guidelines for handrails are identical to the guidelines for traditional homes.
Tiny Home Stairs Ideas
If you like the idea of having a retractable ladder but don't quite like the limited mobility, consider these hybrid staircases.
The design is fully customizable based on your space and can easily be hidden away when not in use. It's made out of heavy-duty wood and it already comes with a stainless steel railing.
The Bcompact folding staircase is hard to define. Part furniture, part art, part engineering masterclass. Their patented, award-winning design allows you to install a durable, sturdy, and beautiful staircase in spaces that often wouldn't allow for one.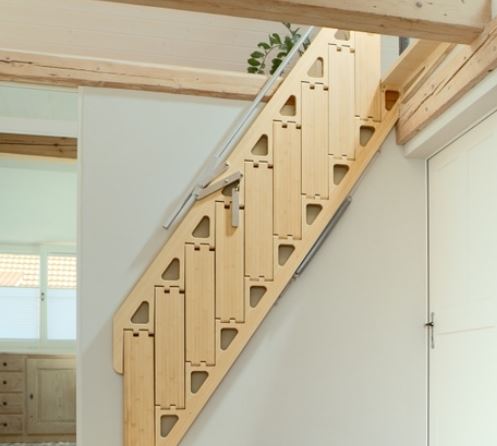 Features:
Premium materials
Award-winning design
Easy to install
Storage Stairs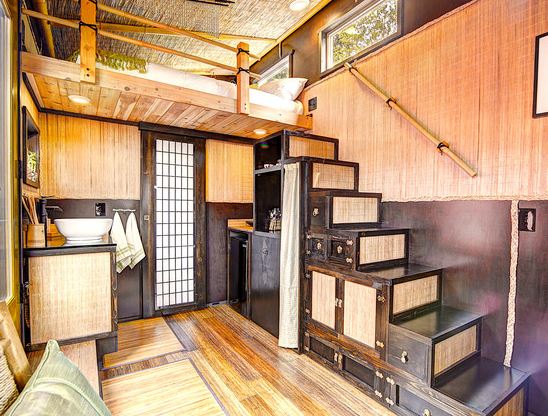 This elegant design solution is particularly inspired by the tansu design principle from Japan. This tiny house utilized the ancient cabinet style and used it to add more storage in their bamboo-prominent tiny house.
There are other tiny house staircase designs that use a similar storage-oriented solution. At the end of the day, there's no one way to customize the storage space under your staircase.
From small knick-knacks to appliances, there's plenty of room for storage if you prioritize practicality during the design process.
Pull Out Stairs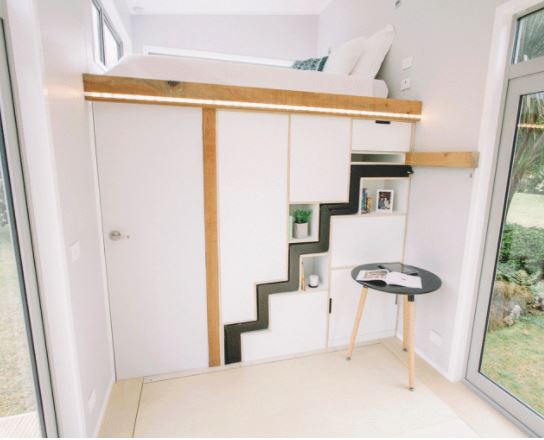 This barely-noticeable tiny house staircase is the perfect choice to get your tiny house as minimalistic as possible.
This unique modular build completely disappears into the wall and provides easy access to the loft. It's a great way to incorporate a stair design without taking away from the existing space and storage.
For safety purposes, you could install a railing on the other side of the stairs just to make it more kid-friendly.
Open Stairs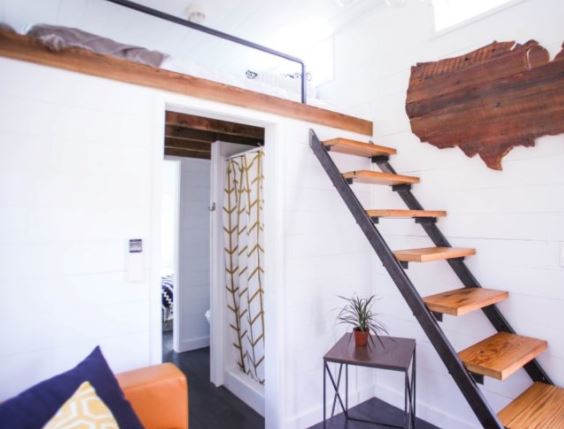 If extra storage isn't a particular concern, you can incorporate an open stair design to your tiny house to make it feel less bulky.
This design by Mustard Seed Tiny Homes is a great in-between of a ladder and a staircase. It allows unhindered access to the loft and effectively opens up the rest of the living space.
Makeshift Stairs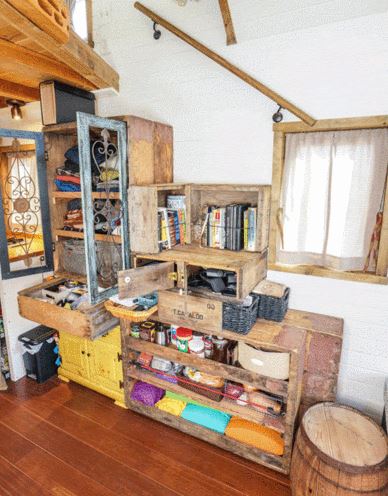 A clever way to place a functional staircase without taking away too much from the space is to piece together pieces of furniture that would function as steps.
You would have to use furniture pieces that are heavy-duty enough to carry both your weight and their contents inside.
While this idea might be perfect for younger couples, it might not be the most kid-friendly or disabled-friendly design.
Stationary Ladder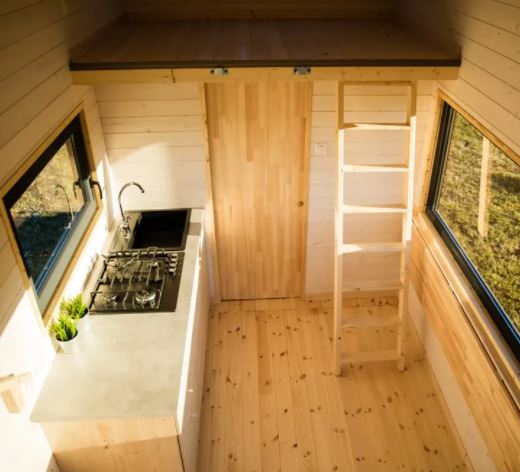 Ladders really are one of the best ways to conserve space in a tiny home that may not have the luxury of space.
They have a small footprint, you can walk under them (if you're not superstitious that is), and they can be moved around easily enough to fit your individual needs.
They can be a bit tricky to navigate through, so they're usually best for families that don't include children.
Sofa Underneath Staircase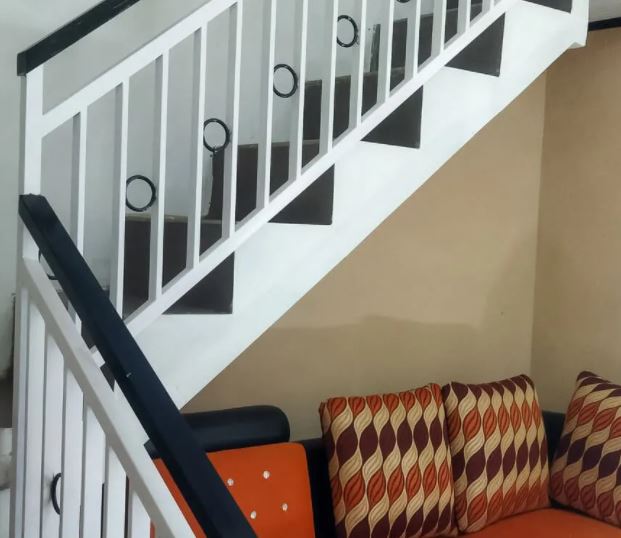 This stylish and elegant sofa positioned underneath this black and white staircase is simply a brilliant idea for tiny homes.
The geometric patterns and bold mix and match color scheme work really well against the backdrop of a stairwell.
But besides the design aspect, it's a really great idea to position your sofa underneath the stairs of your tiny house, since it will free up more floor space for your living room.