In the times we live in, there are a lot of people who have had to come up with space inside their homes so they can work, and this is how home offices have gained more popularity than ever before. For those who can relate, they understand how chaotic it can be to attempt to work when living under the same roof as kids and family members. But your home office doesn't need to take that much space, as you can rock a tiny home office.
Whether you're downsizing to a smaller place or simply building your tiny home office; with a little planning, creativity, and hard work, you should be able to convert a small nook, laundry room, closet, living room, or other space in your home into a workable home office.
Nobody knows exactly how to create or design and build a dreamy home office unless you are an architect of course. So that being said, converting an already used space inside your home is a great idea to start. Keep in mind there's no right or wrong when it comes to a home office since the most important thing is that it works according to your demands. Continue reading and check out fantastic tiny home office ideas.
Tiny Home Office Ideas FAQs
How to set up a home office in a small space?
Assess your surroundings. Where do you think you can actually accomplish work tasks? If you live in a home with several bedrooms, consider turning one of the rooms or walk-in closets into your home office.
Distance yourself from children. The last thing you want in the middle of a conference call is screaming children and loud distractions interfering with your work. To ensure necessary productivity, it's important that you set boundaries with the rest of your household.
Buy a desk that maximizes space. If your home lacks a built-in desk option, then you'll need to invest in a stand-alone sturdy desk for your computer, printer, and other office necessities. Focus on desks that maximize the space in your office.
Consider making an existing table the desk. If you don't have room for a desk, consider turning an existing table into a desk. Dining tables, coffee tables, consoles, and nightstands are all examples of existing tables that can be turned into temporary or permanent workstations.
Focus on vertical storage. Don't count on a lot of floor space for storage when setting up a home office. Instead, focus on vertical storage. Instead of file cabinets, consider installing shelves above your desk to hold files, books, pens, and other office necessities.
Take advantage of quiet nooks. To set up a productive home office in a small space, focus on quiet nooks, such as a walk-in closet, a kitchen nook, or a cozy spot under the staircase.
Get organized. Organizing your home and freeing it of clutter will likely increase your productivity and help you stay sane when working out of a small space. Start with organizing your office files, papers, and supplies.
Ditch the bulky office chair. When setting up a home office in a small space, it's important to maximize your workspace as much as possible. You can do this by opting for an office chair that slides easily under the desk. If possible, avoid wide, bulky office chairs with armrests.
Keep your workspace simple and decluttered. Keep it simple by decluttering your workspace and tidying up your desk on a regular basis. Consider limiting personal items to just your computer, keyboard, mouse, picture frame, and lamp.
Minimize the appearance of electrical cords. When setting up a home office in a small space, the last thing you want is to trip over tangled-up electrical cords. To minimize chargers and cords, try using a power strip that keeps cords neat and tidy.
What does your tiny home office need?
Desk/ Workspace
Your desk is the foundation of your workspace. Find an unused space in your home that would work for your office, and then find a desk that fits that space. Depending on the size and layout of your tiny house, a built-in table might work better.
Comfy Seating
Your career can take up 40+ hours of your week every week. If you're not comfortable, you will spend valuable moments fidgeting or distracted because of your discomfort. While your electronics are the biggest ticket item, your chair should be the second.
Shelving and Storage
Tiny homeowners are experts at making the most of every inch of space. Figure out what you need to keep handy, and then figure out where you stash things that aren't needed daily. Find ways to simplify your decorations to help make your workspace feel as large as possible.
Lightning
Proper lighting is essential to preparing you for a productive workday. You don't want it to be so bright that it's harsh on your eyes and glaring off your computer, but you don't want it too dark that you feel sleepy and unmotivated.
Wall Space
Make the most of your area by utilizing your walls. Put clipboards on your wall to hold relevant documents, put up corkboards to pin up your work, or stack shelves for your work resources.
The wall space under your desk is also a great place to put some organizational tools so you can use your desktop space for what is essential.
Is a tiny home business profitable?
How much profit can a tiny house business make? A tiny house business has the potential to make six figures right off the bat. The amount of profit your tiny house business makes hinges on overhead costs, the number of properties your team can build, and the state of your local real estate market.
Do tiny homes have power?
Most tiny houses get their power the same way that RVs do, through an extension cord. This extension cord is sized differently depending on the power requirements and hookups of your house. If your house is smaller and only requires 20 amp service, you will be able to plug your house directly into an existing outlet.
Tiny Home Office Idea #1: Closet Office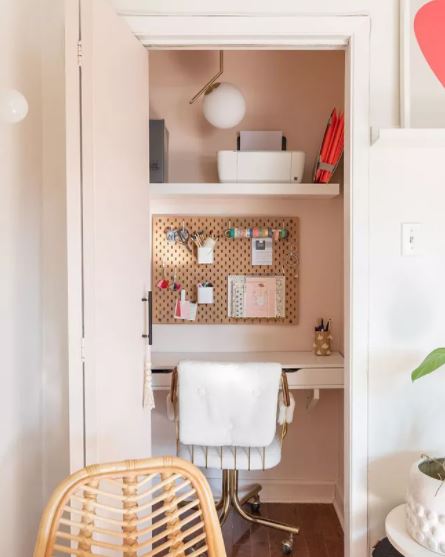 They're out of the way. No more worrying about making sure your desk is neat before company comes over. You can just close the doors and boom! No one even knows what's behind them.
You can go bold without committing to that color palette for the entire room. They're cozy and take up zero main area floor space.
Since you can close off the area, you aren't constantly reminded of work every time you walk into the room.
Tiny Home Office Idea #2: Wall Office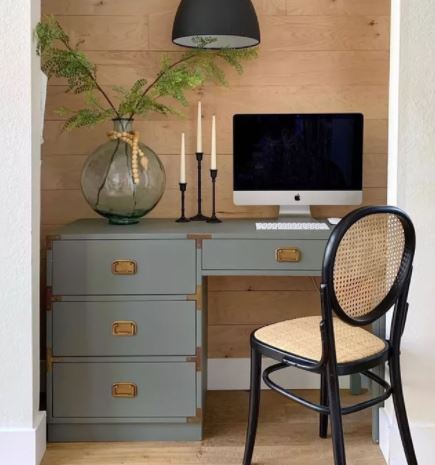 This one is easy peasy. All you need is an empty wall and a desk and you're more than halfway there.
Add some shelves above the desk to help tie the space together and you've got a nice workspace that doesn't encroach on the rest of the room.
Tiny Home Office Idea #3: Built-In Desk
Built-in desks are great for long-term living situations. They always take the room to the next level and add a sense of permanence that you don't get in apartments.
Experts suggest creating a built-in structure in a temporary living situation because all of the pieces will be custom fit to the space. Try a hack to create faux built-ins that will make the space look just as amazing.
Tiny Home Office Idea #4: Office with a View
Working near natural light will help you stay awake and alert throughout the day, which is one reason you will love this setup.
By positioning your desk near a window, you can give yourself the best seat in the house to take in city views while still getting your work done.
Tiny Home Office Idea #5: Desk Nook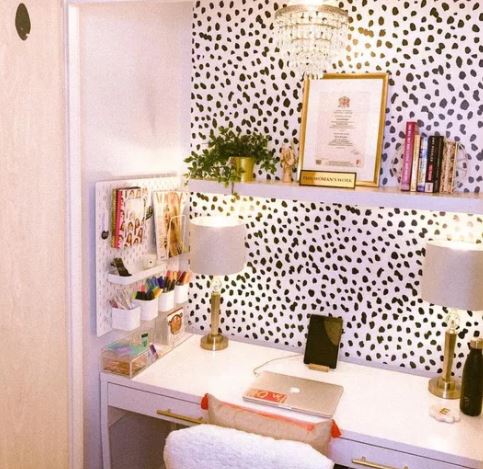 Have a small nook that you're not sure what to do with? Add shelves, a tabletop, and a chair to make a tiny, faux built-in workspace.
If you don't need a lot of room, or just want a place to sit down with your laptop, this solution is not only functional but adorable!