In search of the best heating system for your new small place? Then you are in the right place. Tiny homes aren't for everyone however, these minimalist designs have gained more popularity in recent times. Tiny homeowners understand how challenging it can be to attempt to translate your style and personality into tiny reality. To help you in the right direction we'll be telling you about heating systems for small homes.
One of the first things to address when living in a small house is your heating system. More than an aesthetic, tiny house living is a philosophy. Making a living in tiny homes requires lots of creativity; for obvious reason, heating systems may represent a bit of a challenge; nevertheless, with a little planning, creativity, and hard work, it is all possible.
Tiny homes are all about optimization, simply put, tiny homes are all about creating a simple, more efficient living space which is why you should tackle your heating system straight on. If you are into tiny homes, you'll soon realize some things need to be adjusted and heating systems are certainly one of them. Continue reading and find out everything you need to know about heating systems for small homes.
Heating Systems for Small Homes FAQ's
What is the best way to heat a small house?
The best option to heat your small house could be to use a propane or natural gas infrared heater. Infrared heaters are efficient heater options for small homes due to their ability to heat small spaces while using less energy than other options. While larger homes are harder to heat with infrared heaters, they are great options for a house with less space. One of the main differences is heating this smaller area, opposed to a larger home with more rooms and square footage to cover.
What is the cheapest form of heating for a house?
Gas is generally much the cheapest form of heating, but its cost depends on a number of factors, including your supplier, tariff, and boiler.
What are the main types of heating systems?
Furnaces
Furnaces are the modern evolution of that same heating technology used since the dawn of time: burning fuel to create heat. A controlled, enclosed flame provides energy efficiency along with the ability to easily turn your furnace on and off as needed.
Today's modern furnaces run on natural gas because it's packed with energy, low emission, and is generally inexpensive. The gas is burned in a "burner" and the heat generated is passed into the air through a heat exchanger.
Heat Pumps
The terms "heat pump" and "furnace" are often used interchangeably, but this is a mistake. Aside from the fact that both of these devices can heat your home, they really couldn't be more different. Furnaces actually generate heat by burning fuel, whereas heat pumps collect heat from outside and send it indoors where you need it.
Heat pumps collect this energy by essentially reversing how your air conditioner works: they collect the heat from outside and carry it indoors.
Boilers
Boilers are the least common types, but they're also one of the most effective. Water is actually an excellent vehicle for carrying and transferring heat, and boilers utilize this principle to spread heat throughout your home. A boiler is essentially an extremely high-power water heater.
The water this system produces is then pumped out to your home through specialized plumbing lines, where it reaches radiators, floor heating grids, and more. As the water passes through these mechanisms, it radiates the heat it has collected and warms your home. The water that has cooled off then returns back to your boiler to repeat the cycle.
What type of heating system do most homes have?
Furnace (forced air distribution system). While furnaces can heat the air with electricity, propane, or oil, most U.S. homes utilize natural gas. Gas furnaces are the most popular type of heating system since the forced air distribution system (ductwork) can be used by your air conditioner during the summer months.
What are the types of heating systems for small homes?
Electric Heaters
Electric heaters are perhaps the least expensive heating option for tiny house dwellers and don't require any installation.
However, they also require an on-grid living situation. Unless you have a sophisticated (and very expensive) solar-power setup, you'll need access to an electric source to power these heaters. You'll most often find electric heaters in one of two options: radiant and forced air heaters.
Radiant Electric Heaters
Radiators slowly and gently heat the surrounding air. They are also very quiet. These are a great option when you don't mind waiting a bit for your space to heat up and will be home for large chunks of time.
Forced Air Heaters
Forced air heaters warm up spaces quickly. The fans within these units are usually a little noisy, but if you need quick heat, it's a small price to pay. These are a great option for those who will be popping in and out of their home; the quick heat time makes it easy to power down while you're away.
Propane Heaters
When it comes to affordability, propane heaters are a tough contender. Propane is a clean-burning, efficient fuel that can be used completely off-grid. Like electric heaters, they don't require any installation. If you go this route, you'll just need to have access to propane for refills. Propane heaters are a fantastic option for those who travel a lot and want more flexibility in where they park their home.
Wood Stoves
While a seemingly simple option, wood-burning heat sources require a bit of planning. Wood stoves produce a lot of heat, which means tiny house dwellers must take care to find a small enough stove. Additionally, wood stoves demand space. The stove itself will eat up a good chunk of floor area.
Heat Pump
Heat pumps are fairly quiet, work quickly, don't take up any precious floor space, and can also work as an air conditioning unit. Put simply, heat pumps work by capturing available heat in the air and concentrating it to heat the tiny home. These heaters are mounted permanently, typically above a window.
Radiant Floor Heaters
Radiant floor heaters are either removable mats or heating installed into your tiny home's flooring. They require a power source and take care of an often overlooked problem that tiny home dwellers may encounter.
Heating Systems for Small Homes
This practical radiant heater quickly and thoroughly warms the people and objects in front of it. Dual quartz tubes turn on instantly and give off a warm glow when in use.
The heat is fan-assisted, which helps to disperse it throughout rooms more evenly and efficiently. This makes it a great choice for keeping warm in spaces like offices and bedrooms.
2 top-mounted control knobs allow you to quickly and easily adjust the thermostat and to switch between the high and low-temperature settings.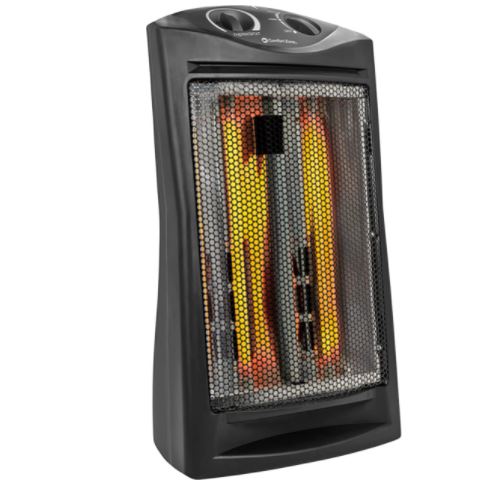 Features:
Radiant, Forced Air
Smart Controls
Safety Features
Save money all year round with a highly efficient ductless mini-split inverter+ heat pump system. Ultra-silent and beautifully built: perfect for home or light commercial use.
Use for both cooling and heating: 18000 BTU/hour, with 19 SEER and 10 HSPF efficiencies. Built with the latest technologies for superior efficiency, comfort, and performance.
Perfect for single-zone residential and light commercial applications.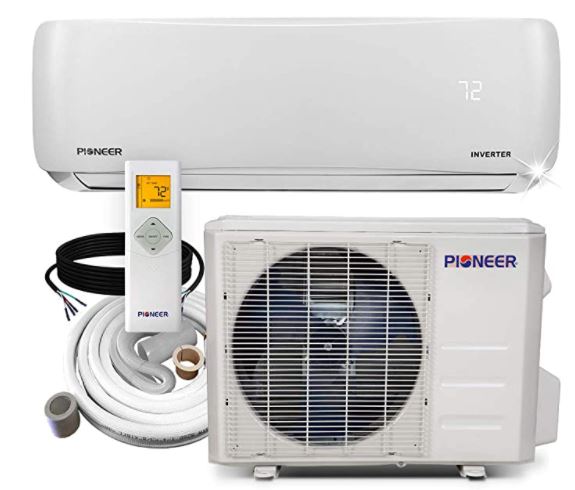 Features:
Wall Mount
Permanent washable air filters
The Ashley AW2520E-P has an efficient 112,800 BTUs and can heat up to 2,500 square feet. This elegant wood stove is approved for mobile homes and features a large pedestal base with an integrated ash pan and a large, arched glass door with a Brushed nickel spring door handle.
The AW2520E-P wood stove meets the stringent requirements of the EPA "Step 2" 2020 Certification Guidelines.
The AW2520E-P model replaces the previous US Stove Company models 2500 and 2500LN along with the Vogelzang Performer TR009 wood-burning stoves.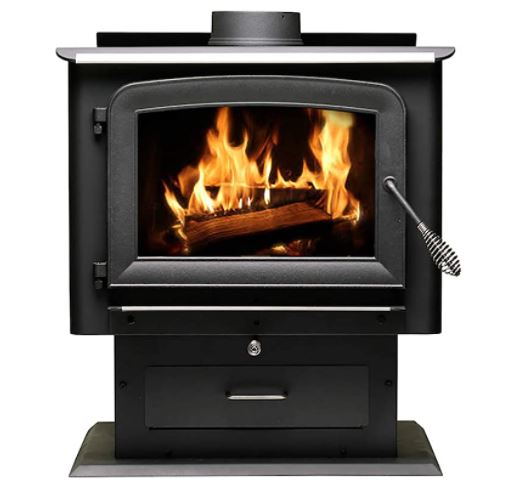 Features:
Brushed nickel spring door handle
The pedestal base provides an elegant look
Logs up to 21″ in length
This patented radiant 4,000-9,000 BTU Liquid Propane heater connects directly to a 1 lb. cylinder and is the perfect solution for heating enclosed spaces like large tents up to 200 sq. ft.
The expertly engineered size to BTU ratio is augmented with a fold-down handle to give this heater maximum output while retaining a minimalistic footprint.
A swivel regulator gives you the ability to adapt usage from a disposable cylinder to a remote gas supply with the purchase of a hose and filter.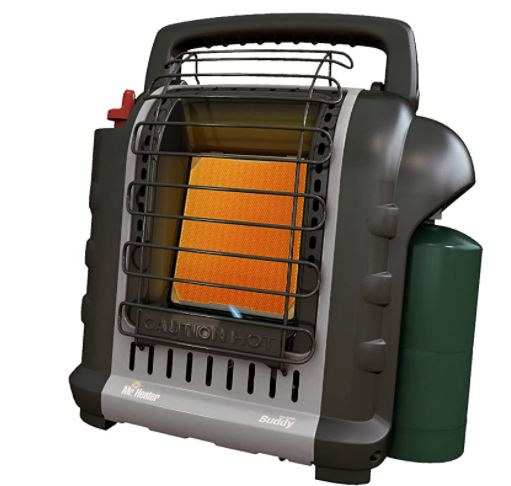 Features:
Propane
Radiant
Auto shut-off
In winter outdoor adventure, warmth is very important. This 2 in 1 portable propane heater and stove can not only keep you warm but also bring you faster cooking.
It can provide a 3.7KW heater with all-around radiant heating. The gas is fully burned, and it can bring warmth to you and your family even on a cold winter night.
Equipped with adjustable flame control to meet the needs of heating coffee and various cooking. Can support pots from 3.8 inches to 11 inches.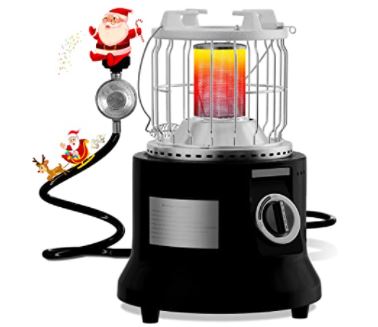 Features:
Simple to use
Multifunctional
Fast gas heater
The heater has an anti-tilt switch. When the heater tilts more than 45 degrees from the ground or the temperature of the heater is too high in the process of use.
PTC heating element is the abbreviation of ceramic electric heating element, which is more stable than traditional heating element, heating quickly.
The heater has low thermal resistance, rapid heat exchange, automatic constant temperature. At present, it is an ideal electric heating component.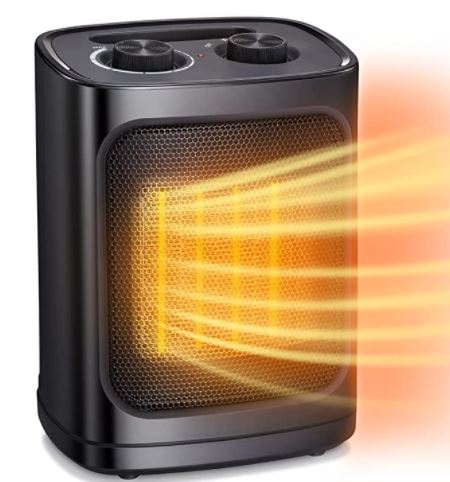 Features:
Anti-tilt switch
Convection
Corded electric
Worried about the electric bill, then you can get solar panels for tiny homes.