Do you need kitchen ideas for your new tiny home? We hear you. Tiny homes have gained more popularity than ever before. Tiny homeowners understand how chaotic it can be to attempt to translate your dream kitchen style into reality. To help you in the right direction we'll be telling you about tiny home kitchen ideas.
Kitchens need specific details and sometimes tiny homes, for obvious reasons, may represent a challenge. Whether you're downsizing to a smaller place or simply building your tiny home kitchen; with a little planning, creativity, and hard work, you should be able to work whiting your new small space.
Nobody knows exactly how to create or design and build a dreamy home kitchen unless you are an architect of course. That being said, keep in mind there's no right or wrong when it comes to kitchen ideas, as long as you like it, that's what matters. Continue reading and check out fantastic tiny home kitchen ideas.
Tiny Home Kitchen Ideas FAQs
Do tiny houses have kitchens?
Tiny-house kitchens can still have large appliances, expensive furnishings, and full islands. But some are so small they only have two-burner stoves, limited counter space, and no cabinets. Tiny-house owners often devise creative solutions to storage problems.
How big is the average tiny house kitchen?
The Average Tiny House Floor Plan. In an average 8'6," x 20′ tiny house on wheels – not too small and not too big; the average interior dimensions are as follow: Great Room: 6'8" x 15'2" Kitchen: 4'3" x 8'6"
What is the smallest size kitchen?
A small kitchen is deemed to be below 70 square feet whereas a large kitchen is bigger than this. This is premised on the National Kitchen and Bathroom Association. The midsize measure of a kitchen is 100 square feet and it sets the perfect size in case one is desirous of remodeling it.
What size is a normal living room in a tiny house?
The typical size of a small home seldom exceeds 500 square feet (46 m2). The typical tiny house on wheels is usually less than 8 by 20 ft (2.4 by 6.1 m), with livable space totaling 120 sq ft (11 m2) or less, for ease of towing and to exempt it from the need for a building permit.
Tiny Home Kitchen Additional Tips
Design is key
Understanding cooking and entertaining habits are the keys to cooking success. If your prep space is too small, you'll end up constantly spilling ingredients and stacking dirty dishes. Having a layout that will accommodate more than one person to help with prep work will make short work of even the biggest meals.
Safety first
If you have a gas stove, make sure you know how to turn off the gas quickly and easily. Burn cream and knife covers are also handy when considering any kitchen contents list. Foodborne illness can easily be addressed with dedicated chopping mats; one for chicken, one for beef, one for fish, and one for vegetables. And, don't forget to keep the fire extinguisher handy.
Garbage can
Above all, when cooking, the two things that you'll access more than your refrigerator; is your garbage can and/or compost bin. And, since floor space is a premium in tiny kitchens, you'll need to plan for a very handy and accessible area for them both.
Pared down utensils
You don't need six spatulas, and four wooden spoons, because you'll be washing dishes as you go. Keeping utensils in a countertop bucket or bin is a great way to ensure you won't buy more than you need or have room for.
Pots and pans storage
Vertical storage is your best asset in a tiny house. Don't waste your precious drawers or cupboards, or cubbies, by storing pots and pans in them. And, ergonomically, accessing pots and pans hung near to the stove is so much easier.
Tiny Home Kitchen Ideas
#1 Airbnb tiny kitchen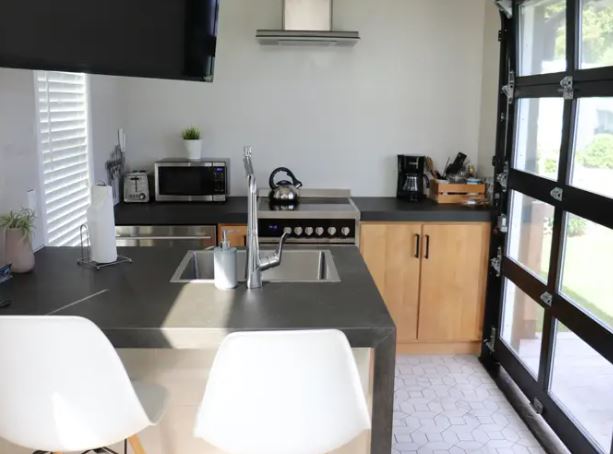 In this Airbnb tiny house, the kitchen has an island and a garage door. While the island only seats two, it adds more counter space for cooking and prep.
The garage door opens to make the tiny house feel more spacious. Behind the island, you can find a small fridge, freezer, a four-burner stove, and an oven.
The kitchen also comes equipped with a deep sink. The kitchen sink matches the stainless-steel appliances. If you have the space add a tiny home table!
#2 Indigo kitchen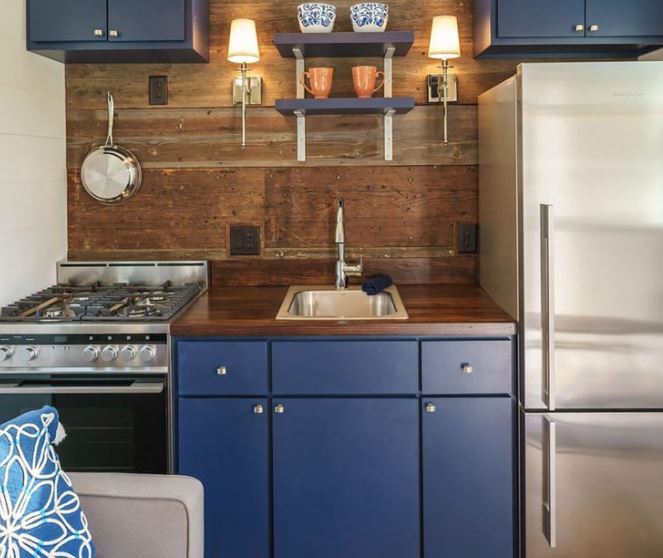 The kitchen in the Indigo is incredible for a few reasons. Although the cooking area is somewhat small, it's well thought out so there is minimal wasted effort and motion.
Additionally, you're cooking with upgraded appliances. Driftwood also features real barn wood in the accents, giving the tiny home kitchen a rustic country look and feel.
There are also custom cabinets for additional storage.
#3 Wall subway tile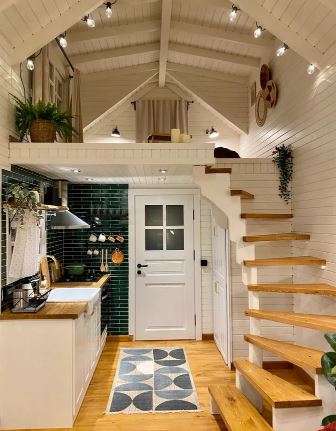 White subway tile may be a timeless choice, but this deep green tile offset by white shiplap brings complexity and richness to a small space.
This tiny home kitchen blends rustic accents like hanging mugs and a shiplap ceiling with elevated touches like a gold faucet and matte black hardware.
As you can tell, only because a kitchen is small, doesn't mean you can't add modern wood accents, bold light fixtures, and streamlined appliances. Lovely Tiny home stairs in this photo right, check other stairs models in the link.
#4 Cabinetry with wood accents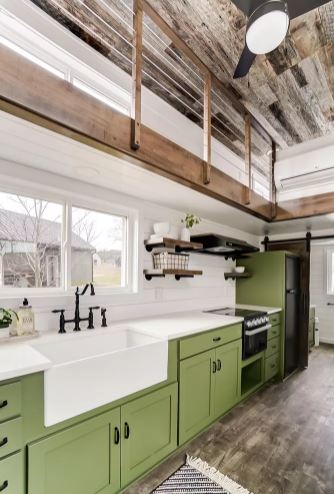 Avocado green appliances may feel retro, but using this hue on cabinets is modern and unexpected thanks to the space's other features.
Offset with both rustic and industrial touches like matte black hardware and a deep farmer's sink, the colorful cabinets add depth and interest to this small, highly functional tiny house kitchen.
Here, you can get creative and combine whichever your favorite color is, this way your kitchen will represent your style and personality.
#5 Kitchen with flat-panel cabinets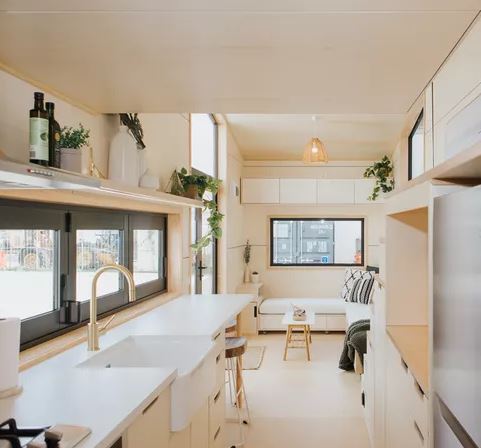 If you want your kitchen to have lots of light, then this airy and bright option is the way to go. Airy and bright are the two words that come to mind when looking at this tiny kitchen.
Black window trim adds a modern touch to an open and uncrowded kitchen filled with casual ease and elegance. Instead of traditional hardware, the cabinetry has a seamless look with built-in hand-pulls.
#6 Shiplap wall and windows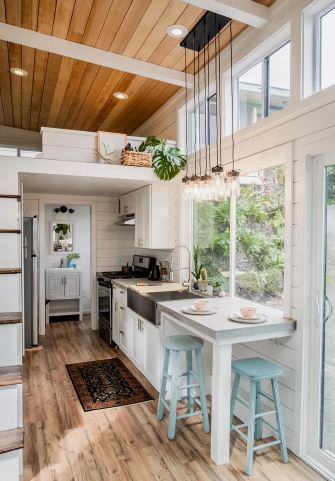 Thoughtful touches like mismatched blue stools and a dramatic yet effortless light fixture make this tiny home an inviting space that marries mid-century modern style with Scandinavian minimalism.
The large, paneless windows and glass door allow the space to be bathed in light.
#7 Geometric lines and gold hardware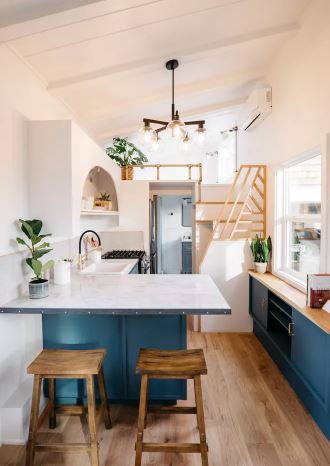 Gold hardware is always a good idea, even if you are working with a small kitchen. It will not only look great, but you can bet your tiny home kitchen's decor will be the envy of many.
Geometric lines, arched shelving, and a bulbed chandelier add interest to this gorgeously streamlined space from Handcrafted Movement.
This is their Sanctuary model, and it has beautiful teal cabinetry, a black and gold faucet, and gold hardware including the luxuriously industrial upper stair rail.