Are you a tiny homeowner and are looking to create that real cozy hygge feeling inside your tiny home? Then you are in the right place. What you need is a wood-fired stove, the reason why today, we'll be sharing with you types of tiny home wood stove options, currently available in the market.
With the right tiny home wood stove you will enjoy the radiant heat and glow mixed with the warm light it throws around any space; as well as the transformative feeling of snugness it produces. Your tiny wood stove not only will provide heat and cooking but also if fitted with a boiler option can produce heat for a radiator or hot water tank.
With so many options available in the market today, it may be hard to know exactly what to look for and therefore decide what would be a good pick. In an effort to show you the right direction, we've come up with different types of tiny home wood stove options, that we are sure you'll find totally worth it.
Tiny Home Wood Stove FAQs
Why do you need a tiny home wood stove?
Whether your tiny home is on- or off-grid, there are lots of great reasons to have a wood stove.
Dehumidification. Wood stoves provide powerful dry heat. In the winter, humidity tends to accumulate in small spaces and cause condensation on walls and windows, which can lead to mold growth. Wood stoves can help dehumidify the air while they're heating.
Security and convenience. You can heat with wood off-grid with no power whatsoever, using fuel that's cheap or free. It's easy to source firewood locally in most parts of the world, and you can store it in large quantities without much more than a tarp. Wood is also a fantastic backup heat source for when the power goes out, or if the propane tank runs dry.
Versatility. Some wood stoves can be used to heat water with a water boiler or jacket attachment. Using your stove to heat water can distribute heat to other areas of your home with hydronic radiators. A wood stove with a water jacket can also supplement a solar water heating system in the Winter to ensure you have hot water year-round.
Ambiance. Imagine watching a real fire flickering in your living room is better than TV. Gather your family around the fire in the evening and enjoy the warmth on your skin, and the faint smell of wood smoke in the air.
Can I put a wood stove in a tiny house?
Wood heat is a good choice for your tiny home. It can be your primary heat source, which is especially good if you are off-grid and lack electrical options. Keep in mind that wood heat works best if you are able to tend to it throughout the day. You can also use wood heat as your secondary heating source.
What is the smallest wood-burning stove available?
The Dickinson Newport is one such stove. It is one of the smallest wood-burning stoves available, and can even be attached to a wall to save space. It measures just 7.88″(w) x 14.7″(h) x 10″(d) and weighs just 15 lbs.
What is a Jotul stove?
Jøtul's cast iron stoves and fireplaces have been crafted in Norway since 1853. For more than 160 years Jøtul has worked at mastering the art of fighting the cold. You can experience elegant craftsmanship with a Jøtul Wood or Gas Stove or Fireplace Insert.
Can you put a small wood stove in a camper?
Wood heat works. It works in a commercially made RV as well if you have the space. All wood stoves must have a clearance area for walls, ceilings, floors, and furniture. Propane heaters have clearance requirements, too, but those for wood stoves typically are larger.
What size wood stove do I need for 500 square feet?
As a basic benchmark, a small wood stove will heat less than 500 sq. ft., a medium woodstove will heat between 500 – 1,000 sq. ft, a large wood stove will heat between 1,000 – 2,200 sq. ft., and an extra-large wood stove will heat over 2,200+ sq.
How to choose a wood stove for your tiny home?
BTU output
Wood stoves are not like electric furnaces, bigger is not better. Too large of a stove, and you won't be able to burn a clean fire without overheating your home. Too small, and you'll have to constantly feed your stove, and may not be able to keep up with your heating needs. It is recommended, the stove you select should be closely matched to your space, climate, and intended use.
Air Controls
Stoves with airtight controls will be easier to control than stoves that leak lots of air. Stoves with several separate air controls allow finer control over the fire for longer, more efficient burns.
Options and Accessories
Do you want a top exit for a more compact installation or a rear exit to allow a larger top cooking surface? Will you mount directly on the floor, on a wood storage stand, or hang the stove on a wall? If your tiny home is relatively airtight, is there a way to pipe the fresh air supply directly to the stove from outside?
Aesthetics
Does the design of the stove fit with the rest of your home? Are you looking for a modern, classic, or transitional style?
Availability of Flue Parts
Don't count on buying solid fuel-rated stovepipe in sizes smaller than 6″ at your local hardware store. And don't risk using pellet pipe or direct vent pipe that's not rated for solid fuel temperatures. Make sure you have a plan for your flue system before buying your wood stove.
Certifications
If your tiny house is subject to building codes, or if you want to ensure it, you might need a UL Listed or EPA/State Certified wood stove.
Support
Is there a responsive company to back up the product, or are you on your own? Is there an installation manual available with required clearances?
What are the types of wood stoves?
Wood Stoves with 3″ Flue Systems
The smallest group of stoves uses a 3″ diameter stovepipe. These stoves don't have a lot of power, but they're able to provide supplemental heat and ambiance for smaller tiny homes or medium-sized tiny homes in very mild climates.
Wood Stoves with 4″ Flue Systems
Among small wood stoves, those with 4″ flue systems are some of the most popular and practical stoves for small to medium-sized tiny homes. Small stoves in the 4″ size can provide serious heating throughout the Winter, but still be small enough not to overwhelm a small space.
Wood Stoves with 5″ Flue Systems
Small stoves in the 5″ size are less common, but they can provide serious heating throughout the Winter for medium to larger-sized tiny homes. Be sure to check the stove rating against a BTU calculator.
Wood Stoves with 6″ Flue Systems
Stoves with 6 inch flue systems include the smaller traditional household wood stoves. Since household models serve a much larger market, economies of scale make some of these models are cheaper than their smaller counterparts.
Tiny Home Wood Stove
The Osburn 2000 is right on the fence of being considered a large stove. Don't tell this stove that though. Powerful enough to heat over 2000 square feet with an 8 hour burn time.
Attractive lines and functional options make this the stove to buy this year.
With a wide selection of doors and bases, you can customize this stove and truly make it yours. Choose from one of the may leg selections or pedestal with drawer to best suit your décor.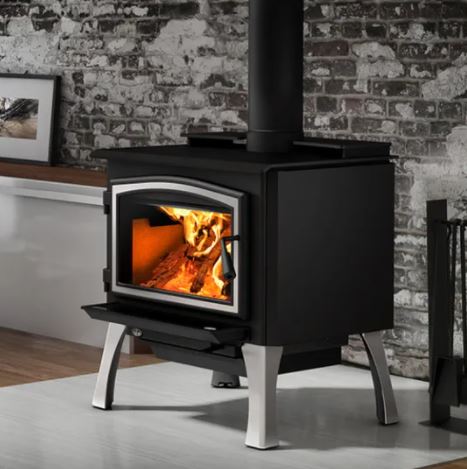 Features:
Heat Capacity: 500-2100 Square Feet
Maximum Output BTU/Hour: 75,000
Dimensions: 27″W x 33 1/8″H x 27″D
Pros:
Meets new EPA guidelines
8 hour burn time
Lifetime warranty
Cons:
Cheaper options available
This stove is truly one of the best values in the market. With 52,000 max BTUs and a 1,500 square feet of heat capacity this stove can keep your home warm and toasty on the coldest days.
This stove also offers 85.5% efficiency which is amongst the highest efficiency in the market. Save your time dealing with wood by getting the most out of it with this incredible stove.
Make this stove your own by choosing from our various options. You can get this stove with either legs or a pedestal depending on what suits your home décor best.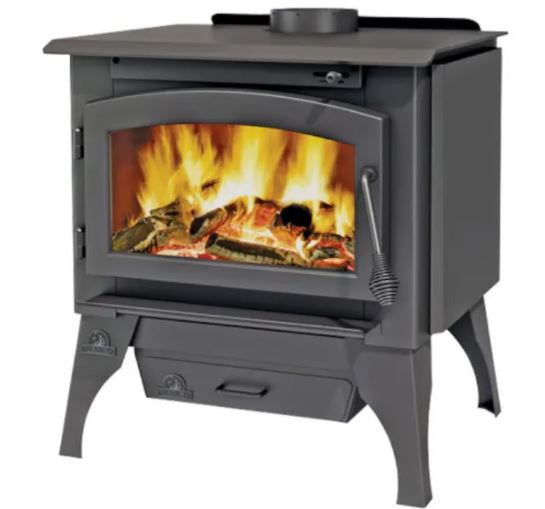 Features:
Minimum Hearth Pad Size: 48″ x 48″
Maximum Burn Time: 6 Hours
Firebox Volume: 1.5 Cubic Feet
Pros:
Low emissions
High efficiency
6 hour burn time
Cons:
Fewer performance features
The Newport Solid Fuel Heater is a small stainless steel solid fuel heater designed for casual use ideal for boats 20-25ft. This heater burns one to two 1″ thick wood or presto log, a handful of charcoal briquettes, or coal.
Removable ash drawer and damper control. Features: Type: Door Latch. Requires 3″ diameter chimney parts. Chimneys 6ft or longer we highly recommend a barometric damper.
A permanent fresh air vent is needed in the area of the unit. Decorative laser cut door. Creates a dry heat to dry out the moisture inside the vessel.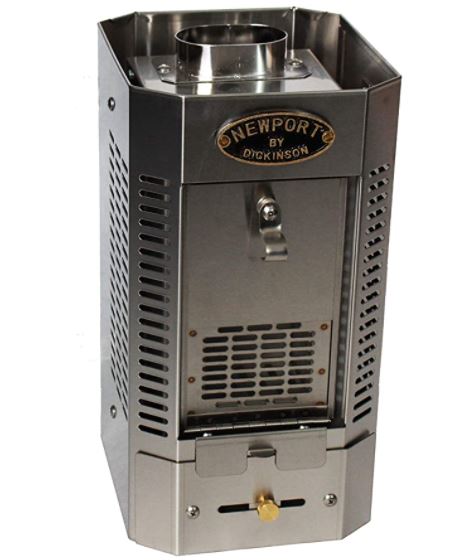 Features:
8,000 BTU/hr heat output
Heats spaces of up to 500 square feet
Can be wall mounted
Pros:
Tiny footprint
Wall mount
Multiple fuels
Cons:
Small fuel chamber
Shorter burn time
This stove will produce up to 21,000 BTU and will heat an area of up to 800 square feet. This makes it the perfect size heater for small homes and cabins. It is small in stature and won't take up much space.
In fact, there is the option of using a top or rear flue which gives some flexibility over where it is installed.
It doesn't need much surface clearance from walls either. A steel rear heat shield gives better air convection and decreases the clearance distance.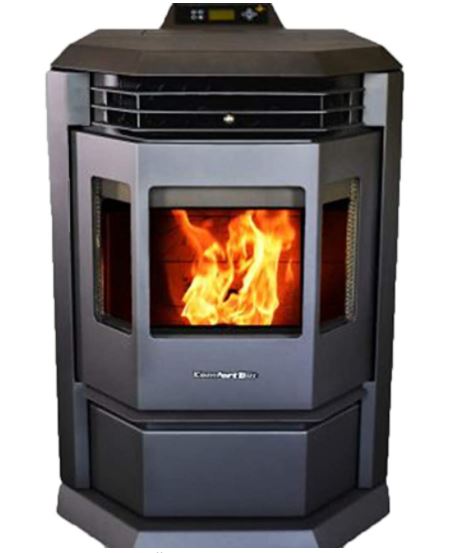 Features:
Large viewing area
Powerful Blower
Pros:
EPA Certified, 110 Volt
Hopper Capacity
Auto Ignition
Programmable Thermostat
Cons:
The Ashley Hearth Products AW1120E-P is a beautiful air-tight plate steel wood-burning stove with nickel-pewter trim that accents a charcoal black finish.
A heavy cast iron door with air-washed ceramic glass allows a magnificent view of the burning fire that will enhance any hearth setting.
The Ashley AW1120E-P burns logs up to 18 inches in length while the pedestal base provides an elegant touch to any room.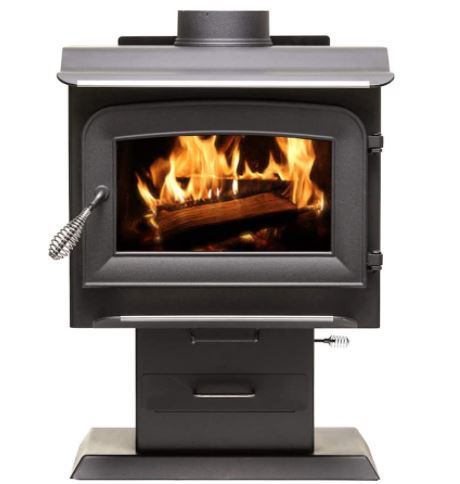 Features:
68,000 BTUs heats up to 1,200 Sq. Ft.
Firebrick lined
Elegant look
Pros:
Accepts logs up to 18″ in length
Brushed nickel spring door handle
Pedestal base
Cons:
Tiny Home Wood Stove Safety Tips
The flue is the chimney that will carry the gases made in the stove out of your home. Consider the heat of the flue pipe, and the path it must take out of your home. The flue pipe must be inspected at regular intervals to make sure it is in good condition.
Installing a tiny house wood stove can be a bit of a headache. It must be clear of any potential fire hazards, and you're not exactly blessed with floor space.
Burning wood produces deadly carbon monoxide gas. Make sure you have a fully operational CO alarm, and that it is tested regularly.