In the search for the right table for your tiny home? We hear you. Tiny homes aren't for everyone however, these minimalist designs have gained more popularity in recent times. Tiny homeowners know a little too well how challenging it can be to try to find tiny home items or furniture. To help you in the right direction we'll be telling you about types of tiny home tables.
Making a living in tiny homes requires lots of creativity; tables in tiny homes, may represent a bit like accomplishing a huge task since usually, tables take up a lot of space, and in a tiny home, space is already limited. Whether you're downsizing to a smaller place, designing the tiny home of your dreams, or simply curious about tiny home furniture; getting the right table will avoid many headaches along the way.
Tables are a necessity, no matter the size of your home; that said, there are a few things you must keep in mind when choosing tables for a tiny home. With different options available, it can be a bit difficult knowing exactly what would work best for you and your tiny home. But we've got you covered, below you'll find different types of tiny home tables that you will surely love.
Types of Tiny Home Tables FAQ's
How realistic is it to find space for a dining table in a tiny home?
In a space as small as a tiny house, there are still ways to incorporate a dedicated dining space, without having to sacrifice a significant amount of living area.
The key to fitting a dining table in your tiny house is using creative ways to conceal the dining area when not in use. There are tons of creative solutions you can bring in to make the most out of your dining space, from using multipurpose furniture to selecting dining tables specifically made for small spaces.
What types of tables would work for a tiny home?
Extendable Tables
Extendable tables aren't just a tiny house staple; they're being used in small apartments, micro homes, and other smaller structures around the world. Extendable tables are great because they provide the space that you need, and then some more. It's a flexible surface option for when you want to eat with the family or have friends and relatives over.
Lift Top Coffee Tables
If your tiny house is less than 400 square feet, there's only so much space where you can actually eat. In most cases, this will be the living area where there are already comfortable seating options. This is where raised tables come in.
In the day, these tables can be set up to function as a coffee table. In an instant, raised tables can be transformed into reliable dining tables, so you can dine on a sturdy surface.
Compact Tables With Seating
Compact tables are built to function as a console, dining table, or a smaller table all in one, depending on how you set it up. When not in use, the chairs can be fitted into specifically built compartments inside the table, leaving your tiny house clutter-free. A great option for a tiny home that is limited in space.
Folding Table
At its very core, folding tables are made for small spaces; whenever not in use, you can hang it on one of your walls or place it on some corner of your home. Keep in mind folding tables don't have to look cheap and out of place with your tiny house's classic decor. The good news is that these tables aren't entirely difficult to build and customize.
Wall-Mounted Table
Wall-mounted tables represent a revolutionary space-saving option needed by most apartment dwellers. Wall-mounted tables are minimalistic and inconspicuous. Wall-mounted tables operate like fold-out tables but instead drop down from where they are mounted, using zero floor space at all. It's a great way to add a dedicated dining area in your tiny house that's practically invisible.
Nesting Side Tables
Nesting side or end tables are small tables that can stack underneath one another to save space when not in use. They often come in sets of two or three tables of varying heights. Nesting tables are a growing furniture trend for tiny and regular homes alike, so there are plenty of modern and stylish options available online. They also tend to be pretty light and easy to move around, so they're great for hosting guests.
Drop Leaf Tables
Drop leaf tables are tables that have a fixed section in the center and two hinged leaves on either side that can be folded down. When folded, these tables are compact and easy to store, so they're a great solution for hosting dinner parties in a tiny house. They come in plenty of sizes and styles, from modern to classic, to suit any tiny home.
Customized Table
One of the great things about tiny living is that builders are more than happy to accommodate innovative solutions to make the home more functional for you. Consider getting a custom-made fixture built into your tiny home.
Types of Tiny Home Tables
A high styling, hardworking table for all your spaces: dining, kitchen, living, office. A white lacquered wood composite disc beveled at the edge floats on a white powder-coat metal pedestal that seems to emerge from the floor.
Whether you're dining with one, two, or more, a tulip table like the Odyssey from CB2 is an ideal small-space table because it takes up less floor space than a rectangular counterpart while offering just as much seating.
Plus, its single pedestal makes it super-easy to add extra chairs when needed, with no legs to get in the way.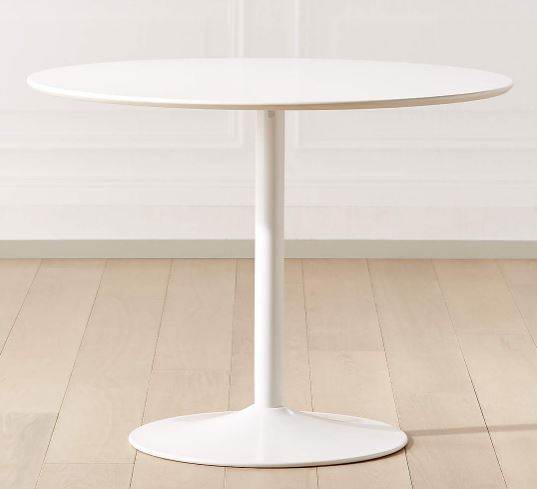 Features:
Metal with white powder-coat finish
Beveled rim
Seats up to four
This coffee table will add a classic look to any room; it offers a weight capacity of 20 pounds. The clear finish of this coffee table will add the perfect accent to your home.
This minimalist, trend-right look is ideal for eclectic and contemporary interiors, where its transparent, graceful silhouette appears to float in a room.
To maintain use only mild soap and water with a non-abrasive clean cloth. With small dimensions, it is perfect for a tiny living room, family room, den, library, or study.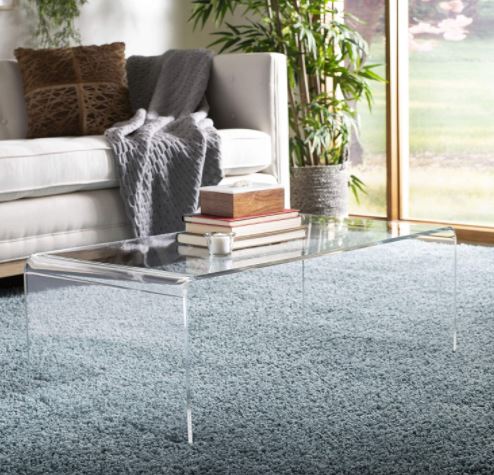 Features:
Living room
Modern
Glass and Acrylic
Defined by its mix of materials and architectural lines, Pilsen is a storage collection with a decidedly urban edge.
Made of steel with a smart graphite grey finish, Pilsen floats a wall-mounted nightstand that's great for space-challenged bedrooms.
The nightstand hosts a single, roomy drawer that provides ample storage for books, reading glasses, and nighttime essentials. Pilsen Graphite Floating NightstandPilsen Graphite Floating Nightstand 22″Wx12″ Dx8″H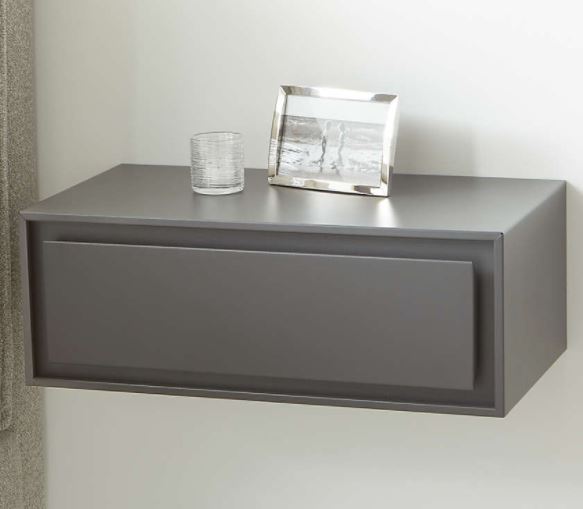 Features:
Steel with graphite grey powder coat finish
Mounting hardware included
Suzanne 3-Pc Space Saver Set Teak lives up to its name and is easily maneuverable while on wheels. This cart comes with two stools that tuck away within the cart when not in use.
On wheels for easy transport, this bar conveniently comes with two stools that can be stored on the cart.
There is a square drop leaf table that accommodates two people. Use it in the kitchen or out on the patio for an effortless outdoor meal.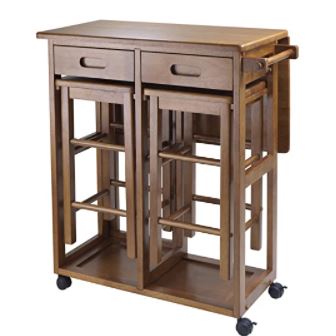 Features:
Solid, composite Wood
Teak finish
Accommodates two people
The tabletop of this coffee table can be effortlessly lifted up and forward to create a workspace when sitting on your sofa.
The high-quality metal mechanism enables the tabletop to be lifted up or lowered down easily and without noise.
A hidden storage compartment beneath the top is designed to store your often-used items like laptop, chess, remote controllers, game controllers and suchlike under the top when not in use, keeping them handy and dirt-free.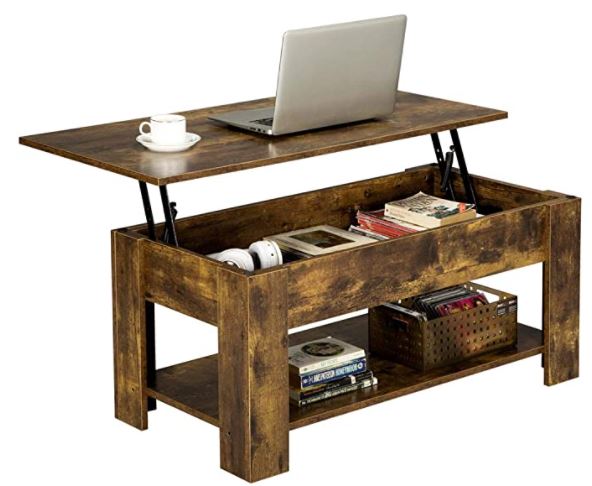 Features:
Living Room
Metal
Engineered Wood